For a printable copy, please click the link below: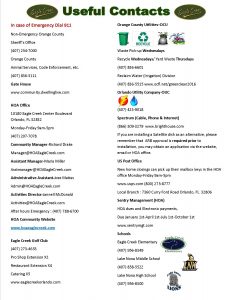 Orange County Contacts
In case of Emergency Dial 911
Non-Emergency Orange County Sheriff's Office
(407) 254-7000
Orange County Animal Services, Code Enforcement, etc.
(407) 836-3111
Gate House
https://community.dwellinglive.com
HOA Office
Monday-Friday 9am-5pm
(407) 207-7078
The HOA Office is located at the Recreation Center at
10180 Eagle Creek Center Boulevard
Orlando, FL 32832
Community Manager-Richard Drake
Manager@HOAEagleCreek.com
Assistant Manager- Maria Miller
Asstmanager@HOAEagleCreek.com
Administrative Assistant- Jose Matias
Admin@HOAEagleCreek.com
Activities Director- Jannell McDonald
Activities@HOAEagleCreek.com 
Eagle Creek Golf Club
(407) 273-4653
Pro Shop Extension X2
Restaurant Extension X4
Catering X5
US Post Office
New home closings can pick up up their mailbox keys in the
HOA office Monday-Friday 9am-5pm
(800) 275-8777
Local Branch: 3201 Curry Ford Road Orlando, FL 32806
Orange County Utilities–OCU
Trash, Recycling, and Yard Waste
Waste Pick-up Wednesdays
Recycle Wednesdays/ Yard Waste Thursdays
(407) 836-6601
Reclaim Water (Irrigation) Division
(407) 836-5515
www.orangecountyfl.net/WaterGarbageRecycling
Orlando Utility Company-OUC
Electric and Water Services
(407) 423-9018
Spectrum (Cable, Phone & Internet)
(866) 309-3279  www.brighthouse.com
If you are installing a Satellite dish as an alternative, please remember that  ARB approval is required prior to installation. You may obtain an application via the website, email or HOA office.
Sentry Management (HOA)
HOA dues and Electronic payments,
Due January 1st-April 1st-July 1st-October 1st
Schools
(407) 956-8349
(407) 858-5522
(407) 956-8300